NEWS
2022
Solcera is proud to announce the creation of its subsidiary in Spain, Solcera Iberica.
In this way, Solcera will develop and promote its projects and activities in the Spanish market, especially with highly engineered solutions adapted to the most demanding high-tech sectors.
In this way, the Solcera group can also strengthen its position and presence in Europe in the defense sector.
Thanks to our office in Barcelona, availability, responsiveness and communication with the local market will be considerably improved.
If you want to know more, contact us and let's find together the right ceramic solution for your project.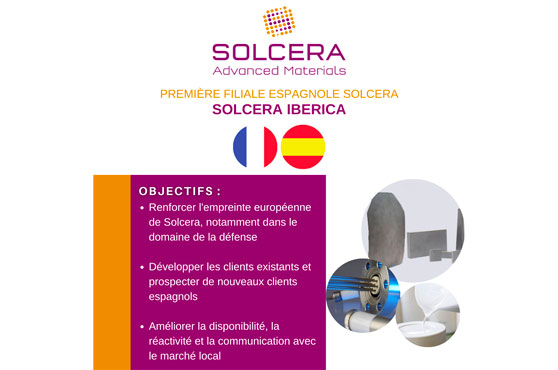 2021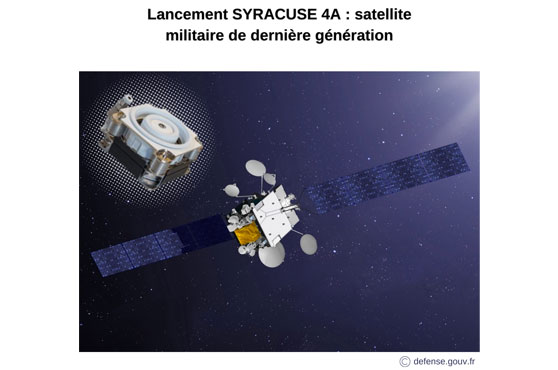 Associated with the SYRACUSE
The Solcera teams are proud to be associated with the SYRACUSE 4A mission, a geostationary satellite launch dedicated to secure communications, operated by Ariane Espace last October. There were four engines on board with brazed ceramics and sub-assemblies, manufactured in our plant in Moissy-Cramayel (77). A great performance that demonstrates once again Solcera's ability to respond to extremely demanding environments in terms of temperature, vibration and ultra-high vacuum.
Salon SVTM à Marseille
Solcera will be present at the SVTM exhibition which will take place in Marseille on November 24 and 25, 2021.
Meet our Solcera sales and technical teams on our booth N°11.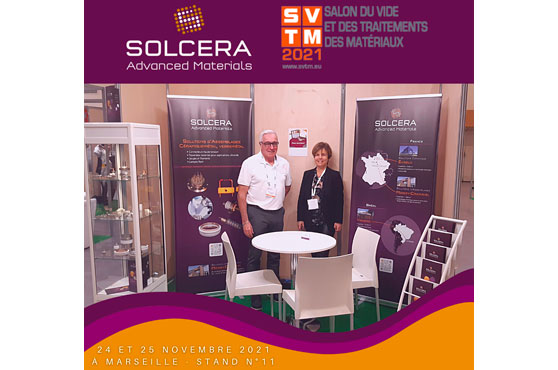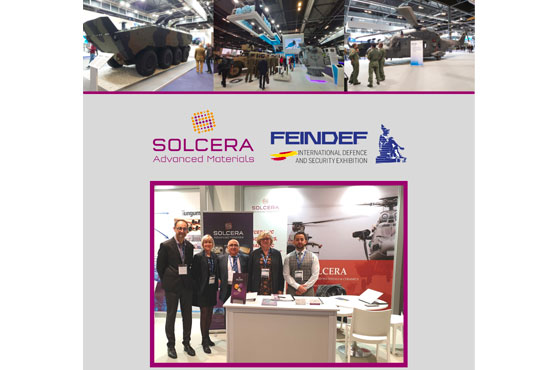 The Madrid show
As a first-time exhibitor at a Spanish defence event, we were finally able to attend the Madrid show, which had been postponed twice since November 2020.
These three days of FEINDEF from 3 to 5 November 2021 were a complete success with a great dynamic for the Spanish defence industry and armed forces, as well as for Solcera.
Visit of the AID and the deputies
Visit of the AID and the deputies Mrs Sandrine Gipson and Mr Jean-Jaques Bridey in Evreux.
Solcera's advanced ceramics at the service of innovation in the defense and French high-tech industries.
Thank you Defence Innovation Agency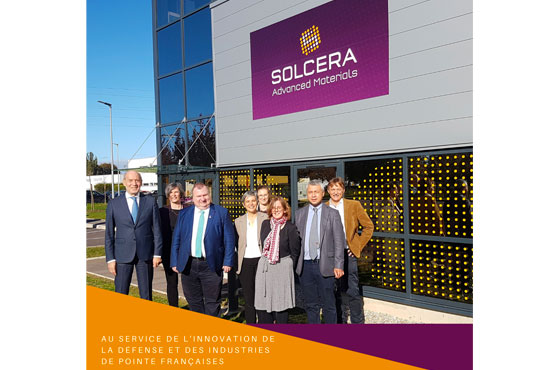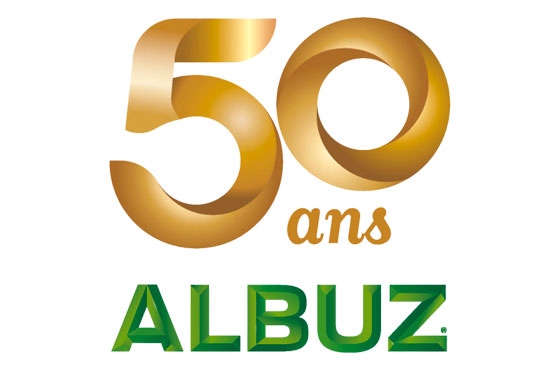 Our Albuz® brand celebrates its 50th anniversary!
In 1971, we designed a colour code for our nozzles in reference to a flow rate to facilitate their use. This colour code was based on the rainbow colours.
Innovation
Innovation in the service of national defense honored on July 14. The Spinel project: light and ultra-resistant armor based on transparent ceramic..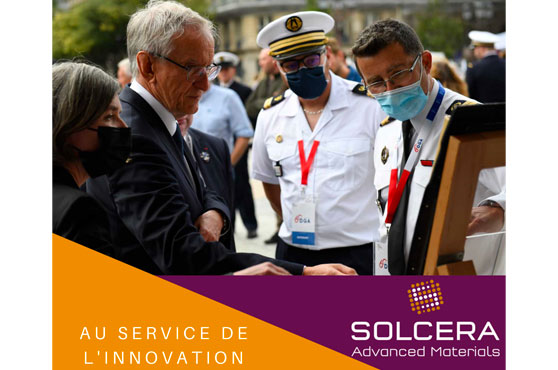 2020
SPINELL Defense Technology Project: development of a cutting-edge armor material
(Source: French Defense Innovation Agency; issued July 21, 2020)
(Unofficial translation by Defense-Aerospace.com)
Led by Solcera, an SME, in cooperation with Nexter and Airbus Helicopters, the Directorate General for Armament (DGA) and the Defense Innovation Agency, the SPINELLE project aims to develop a light transparent armor solution for land vehicles and helicopters.


This study, launched in November 2014 for a period of 5 years, responds to a crucial need: that of optimizing the protection of the glass parts of in-service and future helicopters.
Read more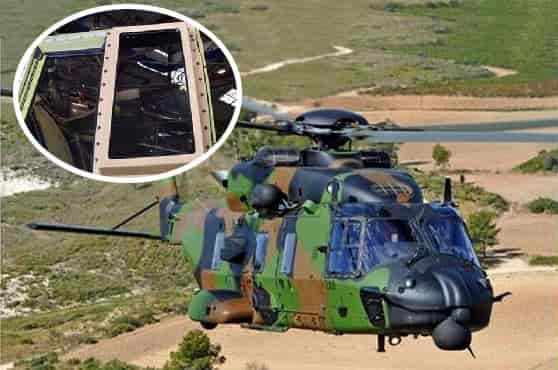 The helicopters of the Army Light Aviation (ALAT) are regularly deployed on foreign theaters of operations, and are therefore exposed to possible enemy fire. Although they are equipped with the latest technologies to guarantee the performance and safety of their crew and passengers, the glass parts of these aircraft are difficult to protect.
Si un blindage de vitre classique (sur une voiture présidentielle par exemple) composé de couches de verre feuilleté superposées offre une bonne performance balistique, il pèse en revanche très lourd. S'il est peu contraignant sur une voiture, le poids est un paramètre primordial lorsqu'il s'agit d'un hélicoptère. La solution en verre n'est donc pas envisageable en aéronautique... [Lire l'article]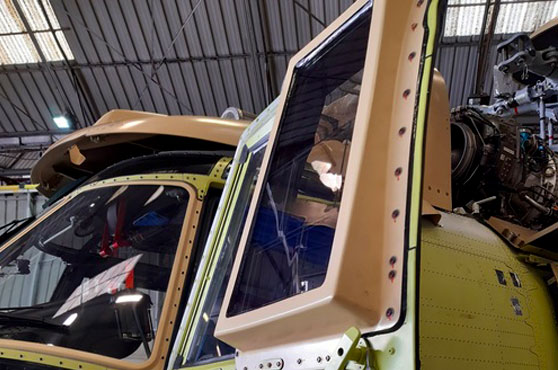 Read more
Pour développer cette solution technique, la DGA a fait appel à la PME SOLCERA, société française spécialisée depuis de nombreuses années dans la conception et la fabrication de céramiques avancées ainsi que dans l'assemblage verre-métal et céramique-métal. Après plusieurs années de recherche, SOLCERA a mis au point une céramique nanostructurée ultra légère (densité 3,48)... [Lire l'article]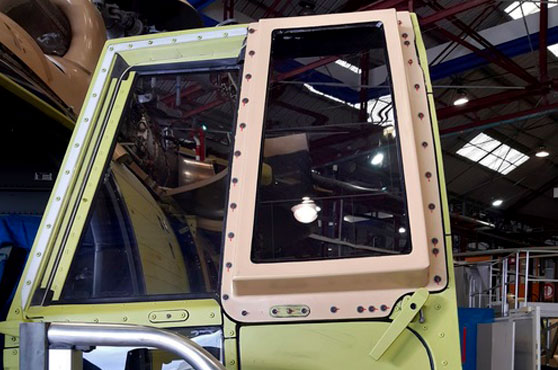 Read more
Contact
ZI N°1 - Rue de l'industrie
27000 EVREUX
+33 (0)2 32 29 42 00
---------------------------------
83 Rue Marcelin Berthelot
77550 MOISSY-CRAMAYEL
+33 (0)1 64 13 61 10